Labrador retriever puppies - Bredasdorp
Sunday, 17 February 2013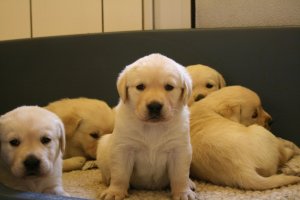 Item details
City:
Bredasdorp, Western Cape
Contacts

chihuahua breeders
Item description
The Labrador Retriever (also known as the 'Labrador' or 'Lab') descends from the Newfoundland Dog and the St. John's Water Dog in Newfoundland, Canada. It was bred to hunt in water and pull boats, which is evident to this day in its natural love for water. Contrary to popular opinion, the Labrador Retriever's name likely derives from the Portuguese 'lavradores' or Spanish 'labradores', both of which mean 'farm worker', rather than the 'Labrador' region of Canada. The Labrador Retriever was recognized by the American Kennel Club in 1917 and thereafter rose slowly but steadily in popularity due to its incredible versatility, obedience, and rugged good looks. It is now considered the world's most popular breed. The Labrador Retriever has been the most registered dog in America and England since 1991; the American Kennel Club had almost three times as many Labrador Retriever registrations in 2006 (124,000) as the second most popular breed. Famous Labrador Retrievers include the title character from the film version of 'Old Yeller' (though the book version was a Mountain Cur), Marley, from the bestselling memoir 'Marley and Me', and Tawny, a yellow Lab who gave birth to 18 puppies with her first litter in 1999 and was named the 'Iams Mother of the Year'.

he Labrador Retriever is unusually adaptable, obedient, and kind-hearted. No wonder it's so popular! Labs are sociable, affectionate, and loyal. They have a very keen sense of smell. Most Labrador Retrievers are athletic; puppies are particularly active. Labrador Retrievers need plenty of exercise. They enjoy long walks and are especially fond of field sports, fetch, and water games.